GREENISH BLUE & BLUISH GREEN TO WHITE
Lot: Tourmaline-26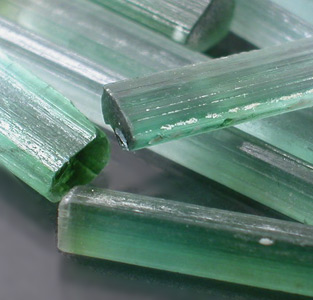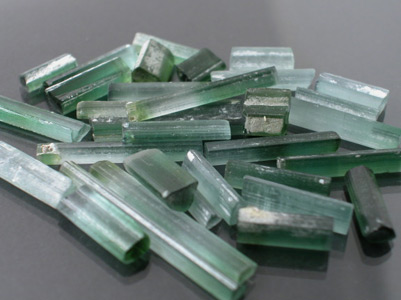 Cut Stone Example from This Lot! NOT INCLUDED!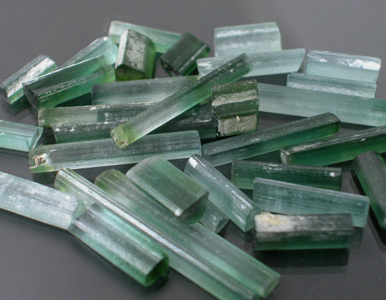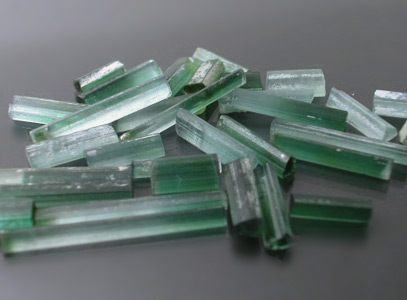 COLOR:
Greenish Blue, Bluish Green, Electric Green, White, Lemony Greenish Yellow
CLARITY:
Will cut mostly eye-clean or better stones (90%+ Top Facet Grade)
ORIGIN:
Afghanistan
SIZE:
Stones range in size from Approximately 1.10 to 5+ Carats (2.25+ Carat Average)
WEIGHT:
70.82 Carats (31 Pieces)
14.164 Grams
PRICE:
$283.28 ($4.00 Per Carat)
DESCRIPTION:

Incredible Lot of bi and tri-colored Afghan Tourmaline that runs from a pale steel white to an electric bluish green & green with some stones having a weird lemony greenish yellow cap. There are green and blue-green bicolors as well as pieces in here that run the stretch of 4 colors or more in a single crystal! This lot is running roughly 90%+ Top Facet Grade with most stones capable of producing eye-clean or better finished gems. Most of these stones are crystal sections with a sizeable portion being fully terminated crystals at both ends! This was a very unusual find of Tourmaline in Afghanistan that we picked up at a discount. We are now passing that discount onto you! This material is SPECTACULAR once cut and we have included a quick picture above! We have cut only about 3 pieces of this at the request of our Afghan Partner to see how the material looked once cut. Since this was a VERY small pocket we picked up the entire production and only have a limited amount left. You will rarely see Afghan Tourmaline at this per carat price in this size range! Don't miss this deal!

COOL FACTS:

Afghan Tourmaline pockets tend to be relatively small in size and as a result consistency in color & quality is a rarity! We have never seen Afghan Tourmaline sold by the kilo with like colored and quality material and lots are generally small in size seldom going over 1/2-1 kilo.

All Afghan Tourmaline is exhumed from primary deposits and as a result mining costs are considerably higher due to dynamite expenditures and traveling expenditures to get to remote mining areas. It is also interesting to note that since all Afghan Tourmaline is from primary deposits most rough will usually have sharp crystal faces.